Total Logistics Solutions
MOLCT is well on track to vertically integrate on the chemical logistics supply chain.
Our initiatives include investments in liquid bulk terminals, and global ISO-Tank logistics service provider. By synergizing with complementary service providers, we aim to provide value added services through improved asset utilization, inventory management, logistics chain visibility.
Across our chemical logistics value chain, MOLCT commits to maintain focus on safety, and long-term operational expertise.
Tank Terminal at Antwerp, Belgium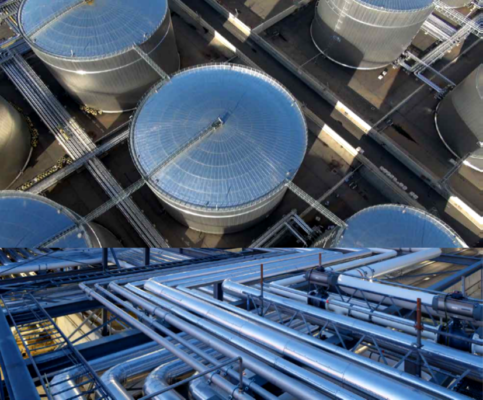 SEA-MOL Tank Terminal, a JV between SEA-Tank Terminal(51%) and MOLCT (49%)
Press released in Sep 2018 to develop and operate a multi modal chemical tank storage terminal in Port of Antwerp (Belgium)
Fully developed storage capacity can be up to 500,000 cubic meter, with multi-modal connectivity of vessels, barges, trucks and railcars
News and Updates:
SEA-Tank Terminal Antwerp NV and MOL Chemical Tankers joined forces in a joint venture named SEA-MOL NV
Tank Terminal at Ulsan, South Korea
Korea Energy Terminal, a JV among MOLCT (5%), KNOC (Korea National Oil Corporation) and SK Gas
Established in Nov 2019 to develop and operate greenfield liquid bulk tank terminal as a Northeast Asia oil hub.
Strategically located in Ulsan port (Korea)
Planned total tank capacity could cater up to about 430,000 cubic meter for petroleum product, natural gas and petrochemical
News and Updates:
Collaboration in the development of chemical terminal in the port of Ulsan, Republic of Korea.
ISO Tank Container
MOLCT and Den Hartogh Logistics (DHL) established a strategic alliance through MOLCT's acquisition of 20% shares in DHL group in Feb 2019
Den Hartogh Logistics is a leading global logistics company, operating over 19,000 tank containers transporting liquid chemicals and gas in the intercontinental, intra-regional and domestic markets. DHL also handles 7,000 box containers for the polymer and food industry
As strategic partners MOLCT and DHL provide their customers in the petrochemical industry truly global supply chain solutions, which synergizes the tanker fleet of MOLCT with the tank container fleet of Den Hartogh Logistics
News and Updates:
Strategic alliance between MOL Chemical Tankers and Den Hartogh Logistics